Hormuz Island
What was Robinson Crusoe's book about? or Tom Hanks is in Cast Away, who was stranded on a lonely island? there are thousands of other stories about those who get stuck somewhere and wait to be rescued sometimes even hopelessly.
Hormuz is an island and therefore, naturally, the only way to reach it is through motorboats. If, however, the weather gets stormy and the port weather organization does not allow any boat to sail, it means that no one can go to Hormuz or come to Bandar Abbas from Hormuz.
My friends and I were amongst those who traveled to this rainbow-looking-like island with a two-day trip plan. We were on a budget journey, so we only had enough supplies to cover us for that two days. When we reached Hormuz, there was such a storm that did not rest for a week. This meant that none of us could go back to our homes nor attend our university classes. There was no boat to take us back and so we even missed our bus tickets from Bandar Abbas to Tehran.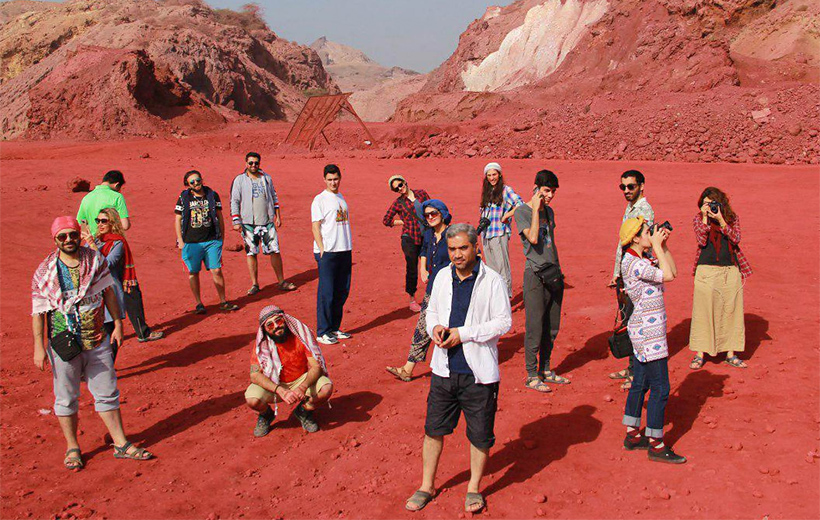 But, if I say I have the slightest regret, I would be sinning far worse than lying. I think the goddess of water and the god of the sea, Anahita, Poseidon, and all the supernatural force –regardless of believing in them or not-, as loyal friends and eternal allies, drew us to this island and closed every way out just to show us scenery that could not be compared with any other. Solitude? Yes! No money? Yes… but we dissolved ourselves in the beauty that presented itself to us.
Hormuz is full of mysteries. It is full of undiscovered places that leave you wonderstruck from the intensity and extent of all the charms of Mother Nature. Hormuz has a separate and independent identity and history. You cannot watch the sunset in the Valley of Sculptures and you can't help the rush of this sensation that you are alive in a form of a human with eyes and the ability to feel and comprehend.
Geology, astronomy, caving, cycling around the perimeter of Hormuz, and walking on colorful sands that could not be found elsewhere are all Hormuz's gifts to its visitors. 
Hormozgan province has long been the land for primal communities and a cradle for baby culture. This province has a rich historical background worth studying carefully. Persians, Arabs, Black African, and a mixture of other races have been living compatibly together, this variety gave Hormozgan an exclusive identity that increased this province and its cities, villages, and islands touristic attractions.
Iran's main ports are located in this region especially the Strait of Hormuz, which apart from its economic aspect, has a high political value and practically controls the export and import of maritime exchanges between Iran and the countries of the Persian Gulf.
One of the lesser-known islands of Hormozgan is Hormuz Island. You can travel there by boat from Bandar Abbas to this island every day. Eco-lodges or houses that you can rent from Hormuz locals could be where you spend your resting and bedtime.

Hormuz has located 16 km from Bandar Abbas and adjacent to the Strait of Hormuz, and due to this strategic location, it is considered the key to the Persian Gulf. The climate is hot and humid, but in winter it can be friendlier if not caught up by well dust storm; The only thing that is capable to bother you is a sudden storm that rises the unsteady sands and affects the sea. As I mentioned all waterways from Bandar Abbas to Hormuz Island and vice versa would be halted until further notice that could take a while if the storm is serious enough to longer more than a day or two.
Hormuz Island is the paradise of geologists. The red soil of Hormuz is worldly famous. This weird crimson soil comes from Hormuz's mines and is a source of income for many people. Hormuzians use this soil as a material to build or decorate houses and also they say it tastes good in local dishes.
Beautiful and pristine beaches with colorful, rainbow-looking-like rocks and cliffs, rivers of crystals salts in golden yellow and shimmering white that go miles long, caves with immanent darkness holding tall stalactites and stalagmite awaits you and surely will provide an adventure for every single day of your trip. I meant what I said, we did not go out of places to see in Hormuz. If these are not enough then you might want to go to the Turtle Blue Beach, Sculpture Valley, Portuguese Fortress, and last but not the least the painted back alleys Ahmad Nadalian Museum. 
The Valley of Sculptures, which is a valley that strong, mighty and sometimes spooky winds have turned its rocks and cliffs into sculptures in form of elves, human heads, primal birds, dinosaurs, and some abstract beasts are one of the mysterious places of Hormuz and also a great viewpoint to watch the sunset.
The Ahmad Nadalian Museum has tried to acquaint tourists with Hormuz's culture, the way that its people think and live while putting an effort into reviving Hormuz with the message of peace. He has special bicycles that have phrases like "world peace" or "save the planet earth" or "beauty surrounds us all" carved into their wheels as to write these words in the sand all around the island for everyone to see and flip their attention toward the mentioned matters.

The wall paintings around this museum have created lovely and images that are unique throughout the islands and the material rises from Hormuz itself. A collection of rocks and sands of the island are kept in this museum and the natives have a special devotion to this because it has played an essential role in preserving the environment of Hormuz and its native culture.
One of the festivals that are held in Hormuz and always play host to many artists from all over the country is the "Hormuz Colorful Carpet" festival. Hormuz, due to its rainbow-looking-like soils and sands offers the best material for artists and enthusiasts to display their art on the beaches of the island. New designs create beautiful landscapes that show both the potential of Hormuz Island and the peak of creativity of these fellow travelers. As Iran is well-known for its ancient skill and art in carpet weaving, all of these artists form a group, and in the end, the design and paint a Persian carpet with sands and motley soils of Hormuz. This festival is usually held in winter and late February. Do not miss it, which is one of the unique sights and gorgeous landscapes of Hormuz Island.
Hormuz is a God who invites its guests single-handedly. If you ever visit this island, know that an invitation has already been written and entrusted to the goddesses of water and the gods of the sea only for you.

This post is also available in: