The idea of Persian gardens provides a perfect and complete image of a country. As we can imagine, the garden is not a jungle. It's protected by walls, the so-called forest law, will not be tolerated there and more importantly, it has a garden owner, just as the country has a king. The country will be growing and progressing and the people will be at ease if all these elements are in balance with each other and work properly. Being said so, the Persian garden is also inhabited and a pleasant place and as a result, it can be a definition of heaven. Some of these gardens are better known around the world and have made it on to the list of UNESCO World Heritage Sites:
Pasargadae Garden:
If we look at the ancient site of Pasargadae today, we will find nothing but rotten irrigation canals. But many Greek historians wrote about it. Cyrus's gardens were built accordingly by his order and his special design. Thus, he created a new style in gardening and garden architecture: Dividing a garden into four parts, directing the water canal through the middle of the garden into these 4 parts, having a royal pavilion to the north or center, and a pool or pond in front of the mansion.
Eram Garden:
It is not clear in which historical period of Iran Eram Garden was constructed, but it is one of the richest gardens here. While maintaining its Chahar-bagh-geometric structure, Eram Garden has cultivated various plant species and turned into a botanical garden. The garden's mansion is decorated with various arts and beautifully displays the peaceful harmony of humans and nature.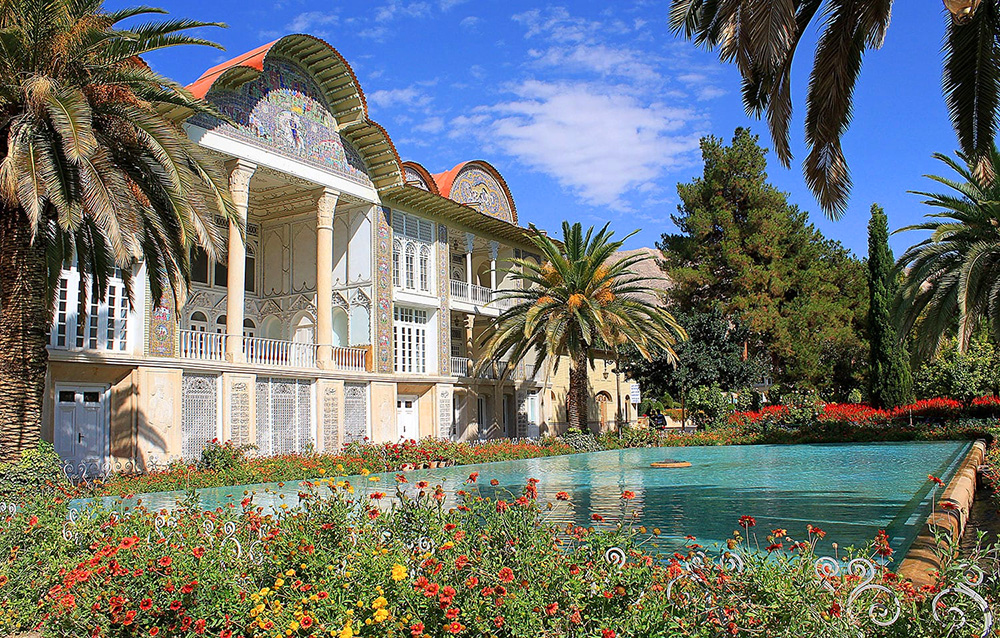 Isfahan's Chehel Sotoun Garden and Fin garden of Kashan:
When the Safavid came into power, their claim to Iranian-Kiani (the mythical-heroic era) heritage was growing. Chehel Sotoun and Fin Gardens were built with the same design and idea. The gardening tradition even took over Chaharbagh Square in Isfahan. Fin garden was structured in a pleasant climate area in Kashan. Its construction is unique with paintings of the Safavid style and irrigation system that was set by mathematical rules and physic concepts.
Shazdeh Garden of Mahan:
Shazdeh's garden structure, entrance, and fountain are very exquisite. The canal system that passes through the middle of the garden is the result of aqueducts, but it is properly guided and has a direct effect on the beauty of the whole complex.
Dolatabad Garden of Yazd:
Yazd is a strange place to build a garden and yet with the help of aqueducts, a city was built in the heart of the desert. Dolatabad Garden also has the tallest windmill in the world, grows the best fruit trees, and its mansion is unique and beautiful.
Abbasabad Gardens in Mazandaran, Pahlavanpour garden in Mehriz, and Akbariye in Birjand are also among the Persian gardens registered by UNESCO, although their number in Iran is higher than this, they are not limited to the current geography of Iran and we could see models of Persian gardens in India too.
This post is also available in: