Souvenir
There are many products you can purchase as Iran's souvenirs. you can think about your friends taste and preferences and plan for what presents you'll want to get for them. Iran has various traditional pastries and cookies as well as excellent tea, medical herbs, saffron and numerous beautiful handicrafts.
Tea
Iran's tea has a worldwide reputation. If you visit tea-farms in Gilan, northern Iran, you can even get some fresh tea leaves.

Medical Herbs
You have probably heard about traditional medicine of the East. Iran's plains and mountains are home to many medical herbs. You can obtain appropriate herbs from the stores traditionally called Attari. The herbs are useful for treating common cold and heart-disease etc or you can simply look for recipes to enhance your health and well-being.

Iranian Golab
One of Iran's traditional inventions is a method for distilling the essence of herbs and flowers. The art has been taught from one generation to the next. The distilled essence of rose is called Golab. The best Golab is produced in Shiraz , Kashan and Oromiyeh cities. The people of Kashan have special customs for producing Golab.

Pistachio
Pistachio is one of the major products of Iran. iran's pistachio is of world-class quality. you can find Iran's best pistachios in Damghan, Kerman and Rafsanjan cities. Pistachio is a rich source of vitamins K, e and D as well as phosphorus. Many kinds of pistachio are produced in Iran which are known by traditiona names of 'Akbari', 'kalleh-quchi', 'Ahmad-Aqayi', 'owhadi', 'shah-Pasand', 'khanjari-e damghan' etc.

Handicrafts
Iranian handicrafts are various and wonderful. The country has 320 kinds of handicrafts. these include metal- working, woodworking, pottery etc.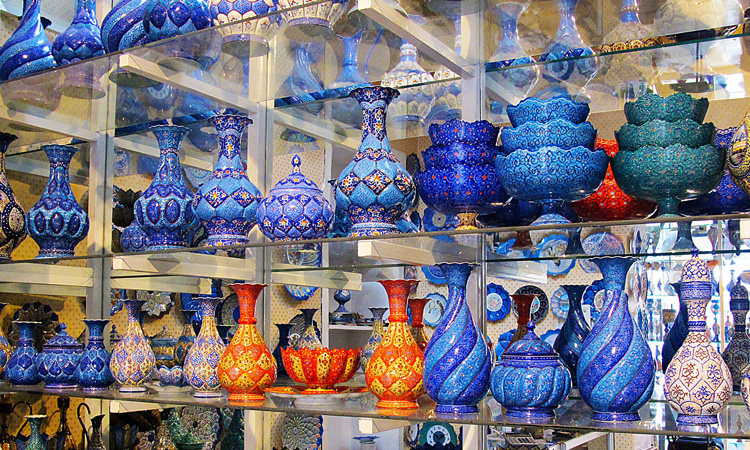 The red gold (Saffron)
Ghayen town in South Khorasan province produces the world's best quality saffron, sometimes called "the red gold." you can obtain Ghayen saffron from traditional and modern stores in Iran. Iran also produces perfect spices. you can obtain spices from traditional bazaars.

Iranian carpet
Carpet and other hand-woven rugs such as Kilim and Jajim are some of the most beautiful handicrafts of Iran. you will not forget your visit with the carpets of Iran.

Termeh
This kind of cloth ( Termeh) is handmade with silk thread and is usually used as a tablecloth. It is somehow expensive due to its quality and special yarn and perfect design. Nowadays, Termeh is mainly made with mechanical tools, but the handmade ones are more valuable. If you want to buy the most beautiful pieces of Termeh, it is better to visit Yazd.

Turquoise
Turquoise is one of the Iranian souvenirs in which is not specific and belongs to Iran. Yet, you can find and buy one of the best types of Turquoise in Iran due to it is solid, hard, and is proper for making jewelry. Turquoise is Iran's national gemstone and centered in the city of Neishabour. So if you have a special taste in Turquoise and jewelry, don't forget to check out the northeast of Iran.

Ornaments and Jewelry
You can provide the necklaces of agate and turquoise. Iranian rings are beautiful too. you can visit the ornaments of Turkmen tribe women and the ethnic groups such as Kordish and Ghashghahi women. The women tend to wear many coins and jewels which dangle on their forehead and are attached to a scarf or shawl that is known "Sarband".

Traditional Iranian Clothes
There are various traditional cloths in this vast country. you can find large collections of hats, shoes, shirts, skirts and trousers. Iran's traditional cloths are usually lively, colorful and hand-sewn.

Caviar
Caviar is an energetic nutrition with a unique pleasant taste and smell. The proteins available in caviar include Histamine, Isoleucine Arsine, lysine and Methionine. The fat available in it is also divided into two major parts; 25 % cholesterol and 75 % lecithin. Over 93% of the sturgeon resources of the world are in the Caspian Sea and Iran is responsible for managing the conservation, reproduction, and releasing the fish. Iran releases 20-22 millions of sturgeon fish babies of the Persian sturgeon genus in the sea annually and is the only country that has legislated severe penalties for illegal fishing of this genus.