Urban Life
Development from rural, tribal, and nomad life into city life has occurred with great speed in the last 50 years. Although nonurban ways of life are not entirely erased, it is decreasing in size rapidly as cities becoming bigger and bigger. The modern city life in Iran is not very different from western societies. There are several cities with a population over one million in Iran, Tabriz, Mashhad, Shiraz, and Esfahan are to name e few.
But the capital Tehran is the biggest and the most populated city in Iran and probably one of the biggest and most populated cities in the world. People in Iran's major cities enjoy all potentials a modern city can offer and at the same time experience challenges that are common for big cities like pollution and car traffic.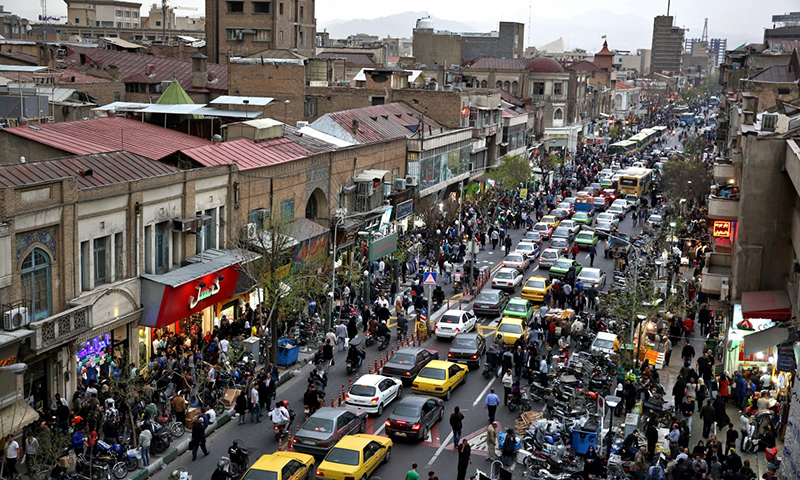 Tehran
Tehran Covers an area of 1500 sq. km Tehran is situated in the north-central part of Iran, on the slope of the Alborz Mountain. As the national capital, it is the most populated city in Iran and the center of cultural, economic, political, and social activities. It is about 1200 meters above sea level and enjoys a mild climate.
Its importance began to increase in the Safavid period (1501-1736). Shah Tahmasp, the king of Iran from 1524 to 1576, was fascinated by the climate of Tehran, as a result of which many buildings including caravansaries were founded. He also built many towers around the city. In the reign of Agha Mohammad Khan, the founder of the Qajar Dynasty (1776- 1925), when Tehran was chosen as the capital of Iran, it enjoyed a boom.
The building founded by Naser Od-Din, shah of Iran (1848 – 1896) gave it a high position among the other cities. After the Qajar period, two architectural trends developed: an imitation of Western styles and an attempt to revive indigenous designs. The population of Tehran has had a boom in the last decades. In recent years the municipality of Tehran has taken great measures to increase the number of recreational facilities, including parks, stadiums, theaters, etc.

Restaurants
In Tehran for all tastes, there are plenty of choices. These choices are varying from Persian foods to different foods from all over the world. Persian foods can be served either in traditional Persian restaurants or in modern restaurants where serve Persian foods. non-Persian foods are served in restaurants which are known by name of the nationalities like chins, Indian, Italian, Lebanese, or French restaurant. There are also several fast-food restaurants where sandwiches, pizzas, and burgers are served. black tea (chai) is the national drink.

It is served strong and with crystallized or cubed sugar (Ghand). you can try asking for milk in your tea. French coffee, espresso, imported instant coffee (Nescafe), and instant cappuccino are available also. A wide variety of fruit juices (Ab Miveh) and drinks are available from shops and street vendors including cherry cordial (sharbat ālbālū) and banana milkshakes (Shir Moz). Soft drinks are widely available, both international makes such as Coca-Cola and Pepsi, and their brand names including 7up, Sprite, Fanta, etc., and local makes such as ZamZam.

Accommodation
Accommodations in Iran range from luxurious if little weary, five-star hotels in major cities to the small, cheap "Mosaferkhuneh" and "Mehmanpazir" guesthouses that are littered about most centers. Staffs often are so happy to provide room and all other facilities for guests either Iranians or non-Iranians. For longer stays, villas with all facilities (including central air conditioning, pool, and Internet connection) can be rented in Tehran and all other major cities at reasonable prices.

People
In Iran people are genuinely friendly and interested to know about different cultures and countries, so leave aside your preconceptions and come with an open mind. Iran is a secure country with peaceful people. In Tehran and other cities, traditional and western types of clothing, both, in formal and informal ways are prevalent.

Emergency Services
emergency services are extensive in Iran, and response times are a very good time. 110 is the telephone number of the local Police control center, it is probably easiest to phone 110, as the local police have direct contact with other emergency services, and will probably be the only number with English speaking operators. Other emergency services are also available via 115 for Ambulances and 125 for the Fire and Rescue team (these numbers are frequently answered by the Ambulance or Fire crew operating from them, there is little guarantee these men will speak English).
The international number 112 is available from cell phones, and will usually connect you to the Police. Iran has also "Iran Assistance" an insurance company specializing in international medical evacuation. Iran has state-of-the-art medical facilities in all its major cities. Apart from being up to date with your usual travel vaccinations (tetanus, polio, etc), no special preparation is needed for travel to Iran.
For minor ailments, your hotel can contact an English-speaking doctor. In case of serious illness or accident, you can ask to be taken to a hospital with English-speaking staff (such as Mehrad hospital, day hospital, or Khatam of- Anbya hospital in Tehran).
Make sure that your health insurance covers illness or accident on holidays since free medical service is not available in Iran. Tap water is safe to drink in most of the country (and especially the cities), although you may find the chalkiness and taste off-putting in some areas (mainly Qom, Yazd, Hormozgan, and Bushehr provinces). bottled mineral water (Ab Ma'Dani) is widely available. Also, on many streets and sites, public water fridges are installed to provide drinking water.
Miscellaneous Info
As a foreigner, a female traveler is officially expected to cover her hair and body excluding hands and feet. All colors and modest designs are generally acceptable. Men also require abiding the following dress code: short-sleeved shirts and t-shirts are acceptable for daily wear. shorts and three-quarter length pants are only acceptable on the beach. Dress attire for men is similar to that in Europe.
Irancell (MTN) offers relatively cheap pre-paid sim-cards for international travelers. It is possible to buy recharge cards from most newsstands. The cheap prices are outweighed by the infamously poor network coverage but it works quite well in most major cities. GPRS is also available at very low prices, especially at night, for surfing the web or checking your email with your mobile phone. The Islamic Republic of Iran Post company has 209 central post offices that supervise all the 275 urban and 1,153 rural post offices.
The company provides many of the internationally available post services. International courier companies such as DHL, Skypark, etc have offices in Tehran and accept documents for foreign destinations. Cafe-net facilities are popping across all major cities and tourist centers. Some (but not all) are double-signed in English, so you may want to memorize the Persian script. If in doubt, any young Iranian should be able to point you in the direction of the nearest coffee net. Iran is the fourth largest country of bloggers.
Tehran is a cosmopolitan city, with great museums, parks, restaurants, warm friendly people. Tehran deserves at least a few days of your Iranian itinerary. Guided by the right guides, you can find an endless number of nice and cozy places in and around the city. Tehran is also a city of parks and possesses more than 800 well-kept parks. The city is nearly a mile high and as a result, is extremely temperate compared to other cities in the Middle East. Summer temperatures are in the 32 Celsius range or about 9095- Fahrenheit. The air tends to be very dry.
Amusement Parks
Iran is famous for its wonderful natural parks and gardens. But in recent decades as urban technology develops a new kind of existing recreational activity has emerged, especially in major cities. Tehran as a metropolis has taken this rather new activity seriously. In Tehran, there are tens of different amusement (theme) parks. Parks with fast roller coasters, high wheels, and many other high techs are functioning. There are open-air amusement parks on vast fields with lakes mostly suitable for warmer days, but recently many themes parks-may be more suitable for younger are made in the big malls, functional all year around.