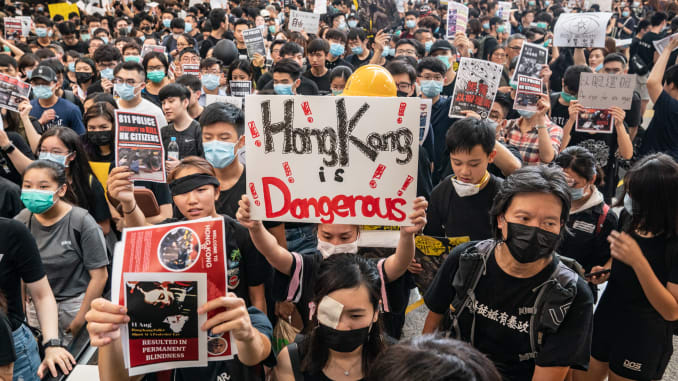 Hong Kong travel agent Denny Chan hikes through lush wetlands near the territory's border with mainland China, snapping photos as he scouts out a possible "green tourism" venue that might attract local residents to his excursions.
Mr. Chan is exploring new streams – both for sightseeing and income – as he works to keep his 17-year-old enterprise and its five employees afloat. His small, student-oriented travel business, Hong Kong Youth Cultural Exchange International Ltd., has been devastated by the double-whammy of Hong Kong's protest movement followed by coronavirus restrictions.
"All my clients from overseas and mainland China stopped coming" after mass protests erupted in June 2019, he says. Then came coronavirus, and travel came to a standstill.
Visitor arrivals in Hong Kong, which surged in 2018 and early 2019, fell to a trickle of 4,100 in April – a year-on-year drop of almost 100%, as a result of stringent immigration control and quarantine measures in Hong Kong and around the world, according to the Hong Kong Tourism Board. The tourism industry is a major economic pillar in the Asian financial hub of 7 million people, contributing 4% of gross domestic product and employing about 257,000 people in 2017.
But Hong Kong's government has moved to rescue the embattled industry, catching firms like Mr. Chan's in a safety net that combines payments to companies, wage subsidies, and green tourism incentives. The industry is also benefiting from a new cash handout of $10,000 (Hong Kong; U.S.$1,290) for all permanent residents, to be distributed beginning in July.
The rescue is unusual for Hong Kong, which has long had a laissez-faire market system in which economic growth has taken priority over welfare. Yet amid a deepening recession caused by the pandemic and social unrest, in February, the government announced a $120 billion stimulus package. This broke with a pattern of fiscal conservatism, causing the first budget deficit in 15 years. The relief package includes slashed taxes on income and profits, and – the centerpiece – the $10,000 cash handout for all residents who are 18 and older.
Together with Mr. Chan's resourcefulness, this support has so far allowed him to make ends meet.
Mr. Chan hopes to arrange 20 bus tours for 50 people each – the maximum number allowed to gather, under COVID-19 restrictions – to max-out the government's cap on subsidies of 1,000 tours per travel agent. It's not much, and he's only promoting the tours by word of mouth. Still, given these extraordinary times, he says, "it's quite attractive."